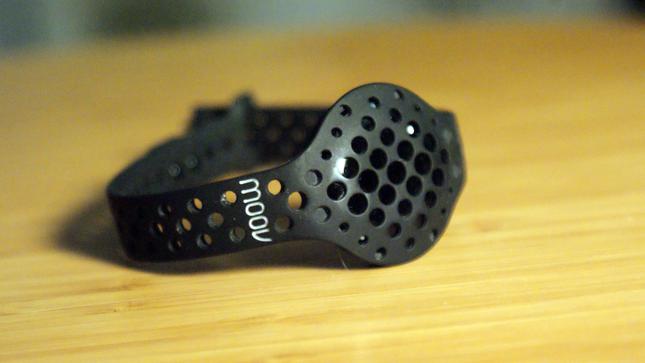 Verdict
Pros
Lighter, smaller more elegant design
In-depth data recorded and analysed
Useful real-time coaching to make instant improvements
Cons
Activity tracking data is a bit basic
Slightly grating voice coach
Key Specifications
Review Price: £64.00
Tracks running, cycling, walking, swimming, boxing, sleeping and daily activity
Real-time coaching
Counts reps
Vocal feedback
12 guided workouts
Third-party heart-rate monitor support
Water- and dust-proof
Six-month battery life
Uses Omni motion 3D sensor to track movement
Works with iOS and Android
What is the Moov Now?
The Moov Now is the second-generation successor to the
Moov
. It's a fitness-focused wearable you put on only when you're working out. Using 3D motion sensor technology, it tracks and analyses activity via a built-in coach to ensure you work up a proper sweat.
I was a big fan of the original Moov, but it narrowly missed out on a recommended badge because an improved model was only months from release. The Moov Now is priced at a similarly affordable £64, but there have been some big changes. It's slimmer, features all-day activity tracking, better battery life and stores data inside a single companion app.
Building on the great features included in its predecessor, the Moov Now is an incredible device. One that the likes of Apple, Google, Fitbit among others should turn to for pointers on how to deliver a truly innovative fitness tracker.
Moov Now – Design and features
The first Moov wasn't built to be worn 24/7, which isn't a surprise when you consider how sizeable it looked around the wrist or ankle; on the latter it almost resembled an Asbo tag.
Clearly the team at Moov has listened closely to feedback, with the Moov Now having undergone a radical change in appearance.
Gone is the large disc-shaped sensor, with the LED trim that clipped into a small cradle inside the tracker's band. It's been replaced by a significantly smaller and lighter, glossy plastic sensor that's about the size of a £2 coin.
The sensor is now available in a greater selection of colours, but I was more than happy with the black model, which compliments the black strap.
Crucially, the drop in size hasn't resulted in a change in sensor technology. You still get the same nine-axis Omni Motion sensor technology, which is able to capture and analyse your motion in 3D.
Unlike trackers from Fitbit and Jawbone, the Moov Now can measure a far wider range of motion. This helps it to generate the type of data that can help correct running form, for example, or improve the intensity of your punches in cardio-boxing sessions.
Related:
10 Best Fitness Trackers and Activity Trackers
Moov (left) and Moov Now sensor (right)
Press on the surface of the small sensor and you'll see that there's now only a single LED light to indicate when the Now is synced to your smartphone. Yes, you remain massively reliant on having your phone nearby to view progress. So if you're packing a phablet like the
iPhone 6S Plus
or
S6 Edge+
, then that's not ideal.
On close inspection, there's a single piece of plastic jutting out of the redesigned sensor. This ensures a secure fit to the new-look strap.
You're still supplied with two straps, one to wear around your wrist and a longer one to go around the ankle. Made of soft rubber, it has a more attractive mesh finish than the previous model.
A plastic clasp sits inside the holed strap and, having used the Moov Now for more than a week on both my wrist and ankle, I'm pleased to report that I've experienced no issues with the sensor falling out. However, the flimsy-looking clasp does nothing to alleviate my concerns that it could easily pop out of place.
Five core activities provide the basis for Moov's tracking. That's Run&Walk, Cycling, Cardio Boxing, Total Body workout and Swimming. The latter confirms that the Moov Now is, indeed, waterproof up to 30m, and it also offers resistance to sweat and dirt should you decide to take it out on a muddy trail run.
Moov Now strap (left) and Moov strap (right)
There are now two new additions to the Moov's monitoring capabilities, with daily activity tracking and sleep tracking supported without the need for additional sensors. External heart-rate monitor support is included as well. I used the
Polar H7
and had no problems syncing the two through the Moov app – as was the case with the original.
One of the most useful features of the Moov setup is the ability to combine two sensors for improved accuracy. This is especially effective for cardio boxing, and will be compatible for swimming too at some point.
I've was also able to sync together the original Moov with the Moov Now for use in activities that support multiple Moovs. So hold on to the original if you have one.
Moov Now – Moov app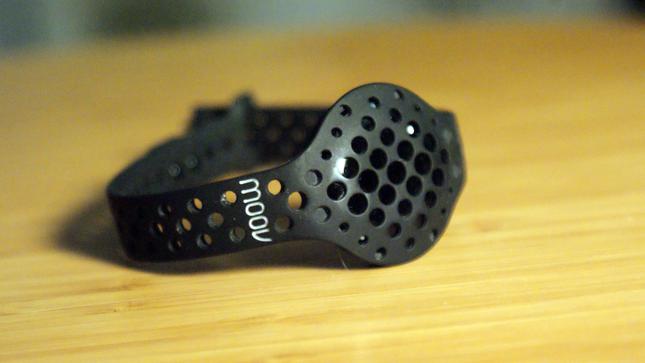 One of my biggest criticisms of Moov's software was having to download multiple apps to monitor different activities. Thankfully, that's changed. All of the data and workouts are now contained in a single app.
Following the hardware, the software has also had a makeover, although compatibility with iOS and Android phones remains (sorry Windows folks).
However, there's no third-party app support right now, with everything contained within the Moov app. I've only had the opportunity to test out the iOS version on an iPhone 6 so far, and it's been a problem-free experience.
The focal point is the Activity feed, where you can scroll through the various workouts. For quicker access, there's a series of colourful icons at the top of the screen that allow you to jump to the mode you wish to start tracking.
At the bottom of the app are tabs for viewing your activity history by day and a section dedicated to progress. It's here you can view workouts for all your activities in one place.
In the top left-hand corner you'll find the settings. You can adjust basic items such as height and weight measurements and even decide whether you want to integrate data to Apple Health. It is from here, too, that you can set off the latest firmware updates.
As far as digging into your data, head to the History tab and select a session. You'll receive a pretty comprehensive breakdown: running offers highlights, splits and details, and provides a choice as to how much data you wish to deal with.
Running, cycling and swimming offer the most in-depth data, but that's not to say you don't receive value from the data collected with other activities.
Overall, the improvements are welcome. Moov keeps things simple where it matters, but provides the option for more detailed analysis if you want it. It's by far one of the easiest companion apps I've had the pleasure of using.
Moov Now – Performance and Battery Life
The basic principle of the Moov Now is the same as the Moov. It's about getting the most out of your workouts, but also about helping you to improve your technique, whether that's trying to run faster or adjusting your freestyle swimming in the pool.
I confess that I'm not much of a cyclist, so didn't spend time out on my bike with the Moov Now. I did, however, get to grips with the other supported activities, and couldn't help but be as impressed with the Moov Now as I was with the original.
Here's a breakdown of my experience with the different Moov Now activities.
Run & Walk coaching
Running is arguably the best optimised for Moov's technology, but there's value to taking it out on a walk too. There are four workouts to pick from, including sprint intervals and open training. Once you've picked your workout, it's a simple matter of syncing the Moov tracker by pressing down on the sensor to pair and you're good to go.
Like its predecessor, interval training and working on running efficiency provide the best of the real-time coaching. For intervals there's a series of difficulty levels. As you move up, the pace at which you're required to run increases.
If you're not hitting those targets, the vocal feedback springs into action, announcing that you should swing your arms harder or try to pick up the pace. If you're struggling, the Moov coach will suggest dropping down a level; but it will also let you know when you're nailing the target pace.
When it comes to open training, the coaching takes a backseat. Instead it provides details about your cadence and range of motion. This information is useful for improving your running technique and will hopefully help you to run quicker and more efficiently.
Once the data is recorded, the app will reveal whether you're in the ideal cadence or motion range. You'll also receive an Impact score to see whether you're putting too much pressure on your joints and risking a long-term injury. Crucially, unlike other apps, these terms are all well explained throughout the app. Just look for the question mark.
I tested the Moov Now's distance-tracking accuracy by taking it out for a short run alongside the Runkeeper iOS app. You can see the results below. Like its predecessor, it's extremely accurate and offers more reliable data than activity trackers worn around your wrist.
Moov Now (left and centre) compared to Runkeeper running on an iPhone 6
Swim coaching
Taking the Moov to my nearest swimming pool, I was able to leave my iPhone a few metres away before putting it through its paces. During just over an hour's swim, the Now was extremely comfortable and unobtrusive to wear. I forgot it was on most of the time. It didn't budge either, despite knocking it against the lane dividers on several occasions.
When I was done, I retrieved my iPhone and ended the workout. Collating the data can take a few minutes, depending on how much time you've spent swimming.
Once it's done, you'll receive a pretty comprehensive outlook on the swim session as the screenshots below illustrate. As well as dat on distance, calories and laps, there was even info on the different type of strokes, number of stroke cycles and the time it took me to turn. The feedback also suggested ways to help improve swimming technique to clock up faster times.
Home coaching
This section combines the 7-minute workout if you need to fit in a quick session plus cardio boxing. The latter is arguably the most fun of the activities, but that doesn't mean you don't get a serious workout at the same time.
Once I managed to find somewhere to prop up my iPhone 6, I was able to sync the old Moov and new Moov Now to track both hands. There's a series of modes to choose from that increase in difficulty as you progress.
Once you get going, it's like Guitar Hero for boxing. You need to get your feet in position, keep your hands up and strike with extra power or speed when prompted. The sensor feedback will tell the app if you're not punching correctly, making sure you get a full workout. Back inside the app you can view data on your fastest punch, hit rate and even the number of combos.
For the seven-minute workout there's a series of levels to work through, starting with a fit test. This involves exercises ranging from jumping jacks, push-ups and crunches to help assess how good a shape you're in.
Each exercise is accompanied with a demonstration video and a motion gauge to indicate whether you're performing the exercises correctly. These might be short workouts, but they'll really push you – and they become harder as you unlock longer, more intense levels.
Data collected includes a breakdown of sets for each exercise, providing just enough information to see improvements.
Activity trackingThe biggest new addition to the Moov setup is daily tracking and sleep tracking. In both instances, you can leave the tracker to just get on with it.
You can view your day by selecting the Active Minute section at the top of the Activity feed in the Moov app. Data is presented in a graph, which represents one of the more clunkier and fiddly aspects of the software.
Here you can scroll through the day to view your active minutes and sleep time. The former refers to the 30 minutes of active time you should incorporate into your day as suggested by the World Health Organisation. Moov has taken the decision not to display step data.
There is a sleep breakdown, which interestingly indicates restorative sleep. This is the type of sleep required to help the body recover from exercise or help muscle tissue to rebuild. Among that, you'll also see logged activities plotted in the graph. Annoyingly it doesn't support landscape viewing, which makes it tricky to read.
Comparing that data to other fitness trackers is tricky since not all offer that same level of tracking. However,
Jawbone UP2
does offer a recording of active minutes. I wore both during the day and night, with the Moov Now on my non-dominant hand as recommended. As you can see below, active time and sleep duration is very consistent.
Moov Now activity tracking and Jawbone UP2 activity tracking
For a wearable that you didn't have to wear all the time, the battery life on the original Moov held up pretty well. With the Moov now, you're not going to have to worry about pulling it out of your bag to find that it's out of power.
The Moov Now uses a coin-cell battery of the type you find inside a watch, giving an impressive six months' battery life. That matches 24/7 trackers such as the Misfit Shine and both Withings Activité watches.
How you'll replace the battery when the time comes isn't immediately clear, since I struggled to pull the casing apart to explore.
Should I buy the Moov Now?
Would I recommend the Moov Now? Absolutely. This is the first time in a while that I've been so impressed by a wearable – be that a smartwatch or fitness tracker. The team behind Moov has clearly taken onboard the feedback on the original, and the result is an even better training tool.
The lighter and smaller design makes the Moov Now more comfortable to wear, and the vastly improved battery life means you won't have to worry about replacing it for a while.
It's the software and the coaching that really hit the spot, however. There are very few products out there on the market that can deliver the breadth of data supplied by the Moov Now – especially when you consider that below-£100 price.
For basic activity tracking, a device such as the Jawbone UP2 or UP3 might give you some more interesting insights. But if you take your fitness seriously, then the Moov Now won't disappoint.
Buy Now: Moov Now at Amazon.co.uk from £52
Verdict
The fitness coach takes on a new look – with its smaller design the Moov Now is currently unrivalled. If you want to get into shape, investing in this activity tracker will be money well spent.
Trusted Score