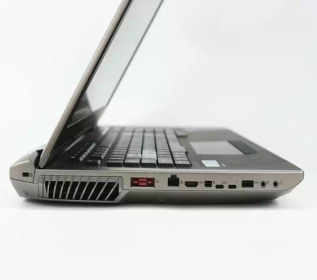 The Internet is developing rapidly. People have higher requirements on the performance of laptops. Fluency operation of big games. The details and texture of the keyboard should be possessed. Besides, the screen and acoustics are important aspects for gamers. ASUS Rog gx800vh is a high cost-effective laptop. It is excellent in price, performance, comfort and other aspects. Gamers can gain a high sense of experience when gaming.
ASUS Rog gx800vh is equipped with Intel Core i7 7820HK processor, 64GB memory and solid-state drive. NVIDIA GeForce GTX 1080 independent graphics card is also possessed. The daily office needs is ensured. The graphics performance is excellent. It can meet the needs of leisure game entertainment.
ASUS once launched the world's only liquid-cooled e-sports notebook GX700. Then launched the rog gx800vh one year later. It has two operation modes, liquid-cooled and non-liquid-cooled. It still has different power supply operation modes. Connecting the notebook body and the liquid -cooled extension dock power supply Separately. Like GX700, it also carries two power adapters. One for notebook and one for external liquid-cooled. When other variables are fixed, rog gx800VH needs to dual-contact 330W power supplies. So as to give full play to its CPU / GPU maximum performance. If necessary, it can connect to the power supply of the liquid-cooled base independently.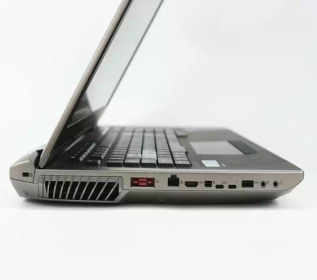 Extraordinary Appearance of ASUS ROG gx800vh
GX800 and GX701 are of the same period. In terms of appearance design, they are compatible with previous Hand other game notebooks. They all in a set of aesthetic system of color and material matching. Side A is made of metal natural color wire drawing process. Side C is the organic mosaic combination of metal and skin like material "R". The iconic logos of ROG series have also been reserved. MechTAG mechanical keyboard axis is added to this product by Asus. The touch of mechtag keyboard axis is similar to tea axis. It is officially called "Tactile key axes with forward clicks". It has obvious advantages beyond the membrane keyboard of ordinary game notebooks. Its 2.2mm key range is beyond the reach of ordinary membrane keyboard. It is similar to the TTC keyboard axis of Lenovo y910. But the keyboard axis clicking sense transition is obvious. It's not the rigid style of a touch to the end. It is relatively close to the feelings of ordinary people. The actual experience is more inclined to the mainstream people than Lenovo. It's similar to the MSI gt80. But MSI gt80 makes some concession for the layout of mechanical keyboard. So the normal layout of ROG shows a better design experience and skill.
Unique Details of ASUS ROG gx800vh
At the detail level, the mechtag keyboard supports anti KNRO technology. It can record every keystroke accurately. It is also equipped with the ROGAura system. Software can be integrated by official Gaming Centre. Users can customize the lighting effect for each button. It supports RGB full-color settings, multi-level adjustable backlight brightness. It also supports several cool ways like wave, breath, constant light, flicker and other. So that they are not afraid of any competitors in the effect of marquee. Asus's iconic ROG function buttons are adjacent to three custom keys, video and volume buttons. The layout is conspicuous. There are retaining clips at the back of the notebook body. They are consistent with the four buckles on the base. Locking rods are above the base. They are used to push the liquid-cooled connecting parts out to lock the notebook. So the connection is firm enough. Nozzles for liquid outlet and inlet at the joint between the notebook and base. They can be closed. When to disassemble the base, press the PUSH button in front of the base. Then block separation will achieve.
Some gamers use spider colorimeter to test this panel. The NTSC gamut up to 91% and the ARGB gamut up to 95%. The performance is far beyond the mainstream gaming laptop and desktop displays. It provides good hardware support for professional drawing and video applications. ROG gx800VH also has excellent acoustics components, SS Sabre headphone DAC and Amplifier. They provide 8 times higher (8x) sampling rate, high dynamic range (DNR) than CD acoustics. It can improve basstransmission and lower noise. It shows rich 32-bit / 384khz sound effect output. The ROG gx800 has four groups of loudspeakers. Two groups of high pitch loudspeakers are located at the base of the display screen. There are two global loudspeakers inside the body. They work together for coordinated mixing to provide gamers a shocking sound experience. Gx700vo once encountered a too sharp high pitch when playing music. From the actual experience of gx800, the situation has been greatly improved. The high and low pitches have made great progress.
Thoughtful Supporting Equipment of ASUS ROG gx800vh
Like the previous gx700vo, this laptop is equipped with a portable large suitcase. But it can only contain the power supply and liquid-cooled components. The body is placed in a separate packing box. The two gx800vh adapters adopt the same specifications. The powers both are 330W. The two power interfaces for liquid-cooled and notebook body is different from gx700. They are replaced to wide flat type. In addition, a WiFi sitting antenna is presented at random. With 02.11AC Wi-Fi module and GmaeFirst IV delay technology, gamers can fully experience online games. A random gift of a mouse with backup microswitch is considerate.
ASUS ROG gx800vh, the best choice for big game lovers. 
Although it is a little expensive than other laptops, it has high performance. And it pays much attention to details. Proper appearance design. Random gift of supporting equipment. It makes consumers have a sense of value for money.