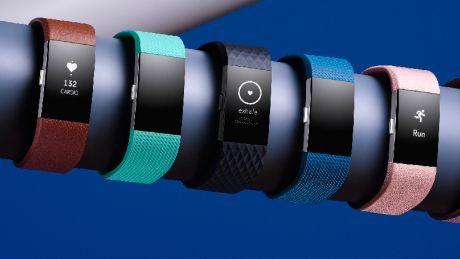 facebook
twitter
pinterest
Nick Harris-Fry
21 Nov 2018
Advertisement
The Short Version
With an array of handy features, a fine design and an excellent supporting app, the Charge 2 is a tough proposition to beat in the world of everyday trackers.
Rating ⭐⭐⭐⭐⭐ (5/5)
Buy from Fitbit
| £139.99
Fitbit Charge 2 Deals
Fitbit Charge 2 Special Editions – 37.5% Off
Fitbit have jumped into the pre-Christmas sales (now a thing, apparently) by reducing the special editions of the Charge 2 to £100. So if you were um-ing and ah-ing over Amazon's cheaper deal because you really wanted the blue-grey strap and 22-carat rose-gold plated tracker combo, well done for holding out. Good things come to those who procrastinate.
Buy from Fitbit
| £99.99 (Fitbit RRP £159.99)
Fitbit Charge 2 – 43% Off
Now that there's a
Charge 3
you can expect to find plenty of discounts on the Charge 2 and Amazon has duly obliged. The major differences between the Charge 2 and 3 are that the 3 is waterproof, comes fitted with a (currently unused) relative SpO2 sensor, a battery life that's extended by two days, a bigger screen and fancier buttons. If you'd rather save the £45 on the £130 Charge 3, pick up the Charge 2 for close to half price and you'll still get connected GPS, a heart-rate monitor and Fitbit's excellent fitness and sleep features.
Buy on Amazon
| £79.99 (Fitbit RRP £139.99)
RECOMMENDED:
Fitness Tracker Deals
Things we liked
The all-new (and exclusive to the Charge 2) Cardio Fitness Score is a clear rating which provides an achievable goal to work towards
Automatic activity tracking – no more forgetting to press a button to start or stop a workout
The addition of Adventures, a new way to motivate yourself to reach the 10,000 steps target
A dedicated interval workout mode where you can set your rest and exercise periods, perfect for HIIT sessions in the gym or runners' interval training
A comfortable design that you can wear to bed so you can track your sleep
The app is comprehensive and intuitive\
The new guided breathing Relax feature did indeed help us relax
Things we didn't like
The lack of built-in GPS means you need to carry your phone on a run to get accurate data and extra info like splits
It's not waterproof
On the rare occasions Fitbit confused which exercise it was automatically tracking, there was no way to amend the mistake in the app
See related
Fitbit Charge 3 Review
How To Pick The Best Fitbit For You
The Best Fitness Trackers Of 2021
The Best Fitness Tracker Deals In The Amazon Prime Day 2021 Sale
Fitbit Charge 2 In-Depth
Using the Fitbit Charge 2 for step counting
No matter what additions are made to the fancier Fitbits, the 10,000 steps daily target remains front and centre. The steps you've taken are clearly shown on the tracker's screen and the home screen of the app, so it's easy to see how close you are to the target. Longer walks are also automatically registered as an exercise that counts towards the Fitbit-set goal of five workouts a week and count towards your daily step total.
The new Adventures section in the app (available with all Fitbit devices) also provides a novel way to motivate you towards achieving your step goal, enabling you to plot how far those steps will take you around a trail in Yosemite National Park or along the route of the New York Marathon. Reaching one of the milestones along the route that unlocks a panoramic image of a viewpoint on your phone (think a 360° image, but about 90° of it) and, of course, badges are awarded on completion.
The Charge 2 can also alert you to a period of inactivity, vibrating briefly at ten minutes to the hour if you haven't logged 250 steps. Mercifully, this feature can be turned off and, even if it's on, it'll skip the alerts when you're sleeping.
Compared with other trackers I wore at the same time, the Fitbit tended to post a higher numbers of steps, but the differences weren't alarmingly high.
Using the Fitbit Charge 2 as a heart rate monitor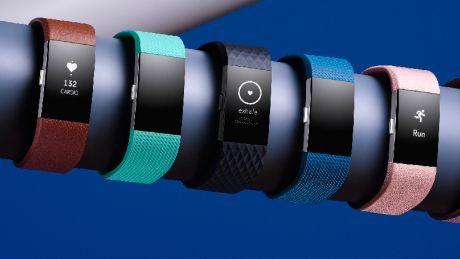 Heart rate monitoring comes as standard on the Charge 2 (it wasn't on the original Charge but was added to the Charge HR), so you can keep tabs on your ticker throughout the day and get a chart tracking your resting heart rate over time. As you get fitter, your resting heart rate should drop.
The heart rate tracking is reliable during everyday activities and moderate exercise, but, like most wrist-based HR monitors, it can lag a little during
HIIT sessions
. This means I found it tricky to get an exact fix on my HR while exercising, although I found the post-workout debriefs were pretty accurate.
Perhaps the most exciting new feature of the Fitbit Charge 2 is the Cardio Fitness Score – the equivalent of VO2 max, which measures how efficiently your body uses oxygen when working out at your hardest. Put more simply, it's an excellent way to see how fit you actually are – the higher the score, the better – with most people falling in a range of 30 to 60.
Once the Charge 2 has calculated your score, it ranks you from poor to excellent so you can see how you measure up to your peers, as well as showing your potential for improvement. The Cardio Fitness Score provides a clear goal to work towards, something that many wearables lack.
Key to the calculation are factors like resting heart rate and weight, so exercise and weight loss will see your score rise, and HIIT training in particular will do wonders for your tally. To aid this, the Charge 2 includes a dedicated interval workout mode where you can set your rest and exercise periods.
Using the Fitbit Charge 2 to track activity
Fitbit's automatic activity tracking works well with the Charge 2, which picks up running, cycling and walking without difficulty or any need to manually start and stop recording the session.
You can also select a variety of workouts from your wrist, including HIIT sessions, if you're worried the Charge 2 won't recognise your training. Occasionally it will get it wrong, and annoyingly it seems impossible to change activity type after the event. This means that if your cycle is recorded as a run, you'll have to delete the activity entirely and enter the ride manually. Luckily these errors are rare, only occurring once while I was wearing it.
Using the Fitbit Charge 2 for running
The Charge 2 has assisted GPS, which means you need to manually connect the Charge 2 to your smartphone for GPS work (not necessarily a bad thing, GPS is a massive battery hog), although this is easily done through the device or the app.
The lack of an integrated GPS is a black mark against the Charge 2, as it means you have to take your phone with you for truly accurate run recording. When tracking runs without GPS, the Charge 2 is forced to go by your step count and estimated stride length to calculate distance and speed. As well as accurate distance and pace stats when running with GPS, the app will also display a map of your route and splits, along with the heart rate, calories burned and steps data that's tracked with or without GPS.
Other than that, it is a handy enough tracker, especially with (non-GPS assisted) automatic recording. The keenest runners may be frustrated as some of the finer tracking points are neglected (elevation, say), but for most people the Charge 2 covers all the bases.
Using the Fitbit Charge 2 for cycling
The lack of a GPS is less of a concern when cycling, as you'll probably have your phone with you anyway and the Charge 2 is impressively reliable at automatically recognising when you're cycling, even when you're just freewheeling down a hill. It can't monitor more cycling specific measurements like cadence or hills climbed, so as with running, it's one for everyday commuters rather than aspiring Tour de France entrants.
Using the Fitbit Charge 2 for swimming
No waterproofing means no swimming with the Charge 2, which is a shame. Fitbit's other new offering, the Flex 2, can be taken for a dip.
RECOMMENDED:
The Best Waterproof Fitness Trackers For Swimmers
Using the Fitbit Charge 2 for calorie counting
Fitbit provides a calorie goal for you automatically (though you can change this if you like), taking into account your personal metrics and the general calorie burn that goes on in the background of even your laziest days. Those who prefer to track just their active calories – those burned during exercise – will also be satisfied, with each activity's effect on your overall total shown in the summary on the app.
Using the Fitbit Charge 2 as a sleep tracker
The Charge 2 has automatic sleep recording and solid battery life so it's unlikely to die on you mid-snooze. Its comfortable design also meant that I had no problems wearing it all night and under most circumstances it seemed to give reliable enough results in terms of tracking my snoozes.
However, when out of its comfort zone – such as when I wore it on an overnight flight – the Charge 2's accuracy went out the window, claiming I managed an impressive eight hours' sleep on a 61⁄2-hour flight. The inaccuracy was particularly annoying because if there's one time you want to know how much you've slept, it's after a flight.
Using the Fitbit Charge 2 for guided breathing
The Charge 2 also includes Fitbit's new guided breathing feature, Relax, which is the company's first big step into the area of mindfulness. Relax uses your real-time heart rate to create guided breathing sessions over two or five minutes that act as moment of calm during your busy day. It's a nice idea, one that will probably pop up on more and more trackers, and I found that a session does help you relax for a moment. However, it wasn't something I found myself using regularly after the initial curiosity wore off.
The Fitbit app
Fitbit's app does an excellent job of condensing all the data it tracks into a very readable dashboard so you can get a clear picture of your daily activity at a glance, and the Charge 2 syncs quickly and easily. It's also simple to get more in-depth by selecting the relevant tile and it's a largely intuitive process.
One slight shame is that the Cardio Fitness Score is tucked away behind the heart rate tile, rather than displayed front and centre on the dashboard.
I actually enjoyed the Challenges and Adventures section enough to regularly visit the tab, rather than ignoring the often meaningless achievement badges you get from trackers.
How often am I going to have to charge it?
The Charge 2's battery life was impressive. A couple of hours' charging a couple of times a week is enough to keep it clear of the red. Should you forget, Fitbit will also email you a reminder to charge the tracker when it gets particularly close to expiring.
Where can I wear it without people laughing at me?
The Charge 2 is certainly sleek enough to be worn anywhere without mocking glances, especially in the black version. You can also pick from a range of interchangeable band colours (black, blue, plum, teal and lavender,
extra bands £19.99 each
) and leather versions (brown, indigo and blush pink,
£59.99 each
), if that's your bag, but it's probably a little much to wear alongside a watch proper, unlike other, slighter, bands like the Fitbit Alta or Misfit Ray.
The Charge 2 can double as a smartwatch with a larger screen than its forebears, but it's still a black and white affair and a relatively small screen. We ended up turning the smartphone notifications off.
Should I consider buying something else?
Perhaps the sternest competition it faces comes from its Fitbit stablemate, the
Blaze
, which offers a slightly better set of features (full-colour touchscreen and guided Fitstar workouts, although crucially no Cardio Fitness Score) in a more stylish package, all for only £30 more than the Charge 2's price of £129.99.
Dedicated runners and cyclists will probably want more in-depth stats than the Charge 2 can provide and swimmers will obviously want to steer clear, but if it's everyday step, exercises, sleep and heart rate tracking you're after, the Charge 2 is an excellent choice at a good price point.
Read more about:
Fitness trackers
Gear
Fitbit