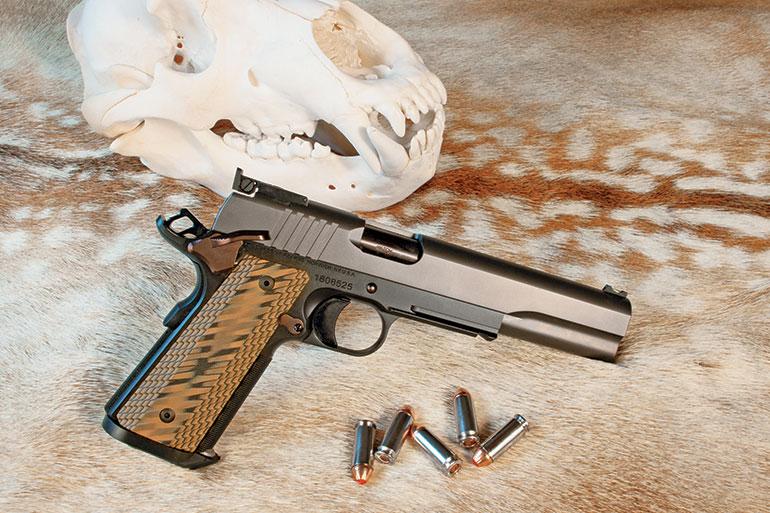 February 12, 2020
By J. Scott Rupp
If you're a prominent maker of high-end 1911s that wants to add a model to the ever-growing list of those pistols chambered in 10mm, how do you go about making a splash in the market? In Dan Wesson's case, you do it by giving it a cool name and a sexy look.
Like its stablemate Bruin, the Dan Wesson Kodiak is a long-slide 1911, and in this case the sexy look is the tri-tone model I received for testing. The tri-tone boasts a matte gray slide, black frame, bronze controls and a set of tan/black G10 grips. I know beauty is in the eye of the beholder, but to me this is one great-looking pistol.
Like I said, it's a long-slide, and the barrel is 6.03 inches long. This accomplishes three things. One, the longer slide means more weight overall and more weight out front to help control the recoil of the 10mm Auto cartridge.
Two, you get a longer sight radius, which makes it a little more forgiving in terms of sight alignment. For a bifocal-wearing shooter like myself, it's easier to get the front sight in sharp focus.
Last but not least, the extra inch you get over a standard-length Government model is going to wring out every last foot per second in velocity and, accordingly, more energy.
Comparing barrels is never true apples to apples because some barrels are simply "faster" than others, but here's some anecdotal evidence to chew on. Two years ago I reviewed Ruger's five-inch 10mm 1911. Two of the loads I tested in that gun I also tested in the Dan Wesson Kodiak: Hornady Critical Duty and SIG Elite V-Crown.
The Kodiak's muzzle velocities were 89 fps faster with the Hornady and 50 fps faster with the SIG. And I'll do the math for you on the energies: 79 more foot-pounds with Hornady (548 ft.-lbs. out of the Kodiak) and 50 more foot-pounds with the SIG (673 ft.-lbs. out of the Kodiak).
To put those latter figures into a percentage perspective, the Dan Wesson six-inch barrel produces 17 percent more energy with the Hornady load than the five-inch Ruger barrel. The percentage gain with the SIG is only half as much, but when you're talking about the relatively low energy levels produced by pistol rounds, every little bit helps—whether your threat is some dude or dudes with bad intentions or a grizzly bear who takes offense at your presence.
Lest you think the bear thing is overstated, the Kodiak moniker isn't just a marketing gimmick. People who spend a lot of time hunting, hiking and fishing in brown bear country are increasingly moving to the 10mm as their preferred sidearm. If you're a handgun hunter, the 10mm is certainly gaining a foothold in that arena because of the power it offers.
The bronze controls, G10 grips, black frame and Duty Gray slide complement each other really well to create a gun that's as good-looking as it is functional.
The Kodiak's frame is forged stainless steel with a black finish and a single-slot accessory rail. The stainless steel slide has Dan Wesson's Duty finish, in this case matte gray. The finish is similar to Melonite, a thermochemical treatment, and promises excellent corrosion resistance. The slide has square-cut serrations on the rear only, and "Kodiak" is engraved forward of the left-side serrations.
The slide lock, extended ambidextrous thumb safety levers and magazine release are bronze in color, and they really complement the overall look of the pistol. This finish is similar to Ionbond, a physical vapor deposition process that should stand up well to hard use.
The black trigger is solid, and it has subtle serrations on the face. In a world awash with three-hole triggers, I think this is a good choice in terms of aesthetics.
The grip safety has a memory bump, and the flat mainspring housing and frontstrap have 25 lpi checkering. The grips are as gorgeous as they are functional. G10, a high-pressure fiberglass laminate, has become a go-to grip material for handgun grips because it's tough and can be crafted to create various levels of aggressiveness. Plus, because it's a laminate, manufacturers can choose from a wide variety of color combinations—tan and black, in this case.
At the bottom of the frame is a generous magazine well funnel. It's just the right size—roomy but not stupid-big.
The generous magazine well is big but not obnoxiously so, and it does a great job of facilitating fast, fumble-free reloads.
The rear sight is a fully adjustable Dan Wesson with a serrated rear face. It's set in a dovetail, as is the green fiber-optic front.
The internal design is a bit different. It doesn't have a full-length guide rod but instead employs a short rod, round-wire recoil spring and a reverse recoil spring plug.
When I disassemble a 1911, I remove the top first—as opposed to removing the bushing, plug and recoil spring and then taking off the slide. While I'm not a fan of full-length guide rods, they are nice for my preferred disassembly method because everything comes out essentially as one piece and I don't have to worry about controlling the spring.
The reverse recoil spring plug arrangement on the Kodiak accomplishes the same thing because the tip of the guide rod is captured by the plug and retains the spring. And unlike a full-length setup, I don't need a tool to trap the spring; simply remove the spring and guide as you would on any short-guide-rod 1911. A slot in the back of plug allows it to pass over the barrel lug and link so you can remove it.
The bull barrel sports a target crown, and the frame features an accessory rail with a single slot for a light or laser.
As a bushing-less 1911, the match-grade barrel is full diameter at the front, and it features a target-style crown. It, too, has a bronze finish, and there's a teardrop-shaped clearance cut at the top.
While disassembly is a snap, getting all of it back together is a wee bit tougher because you have to insert the recoil spring plug first and then insert the spring and guide rod. It takes some strength to compress the spring to get the tip of the guide rod into the plug. Then everything goes together just fine, and reassembling the slide on the frame is a cinch.
The design incorporates a reverse recoil spring plug, which makes disassembly easy—although it does take a bit of force to get the spring/guide rod to go into the plug on reassembly.
The Kodiak features a Series 70-type trigger, and it's excellent. Take-up is only about 1/16 inch, and after that it breaks like glass at an average pull of three pounds 10 ounces—with very little pull-to-pull variation.
Between the great trigger and the long, 7.75-inch sight radius I was able to get some terrific groups. You can see the averages in the accompanying chart, and within those I got some real eyebrow raisers, at least for me— a 1.0-inch group with the Barnes load and 1.1- and 1.2-inch groups with the SIG V-Crown.
I did have three or four instances where the slide failed to go fully into battery, and twice the slide didn't lock back on the last round. But all those happened at the beginning of testing before the gun has any break-in time. Later I shot the Kodiak in drills with the loads listed in the accuracy chart—plus Winchester USA white-box full metal jacket and SIG Elite full metal jacket—and the gun never hiccuped.
A while back in our letters column a reader called out anyone who considers 10mm recoil to be excessive. He was right. It's not. You want excessive? Shoot an airweight snubnose .357 Magnum or a lightweight .44 Magnum.
The 10mm is controllable, and it's especially so in a long-slide 1911 like the Kodiak. Sure, its 47-ounce weight is a big help here, and like I said earlier, having more weight out front due to the longer slide is a benefit as well.
I worked with the Kodiak out of a Crossbreed belt-slide holster, which has an open end so the six-inch slide fits. It took no time at all to become accustomed to clearing the longer gun from the holster, and the Kodiak was easy to drive toward the target.
Punching fist-size groups in rapid fire was a relative breeze. I say "relative" because while the 10mm is controllable, it is a step up from a .45 and a couple steps up from the 9mm Luger.
The softest-shooting load was Speer's Gold Dot, and it performed well in accuracy testing, too. In case you're interested, this load churns up 540 ft.-lbs. of energy—about on par with the Hornady Critical Duty.
Notes: Accuracy results are averages of four five-shot groups at 25 yards from an MTM pistol rest. Velocities are averages of 20 shots recorded on a ProChrono place 10 feet from the muzzle. Abbreviations: HP, hollowpoint; JHP, jacketed hollowpoint
I love the rear sight's notch, which at 0.116-inch provides the right amount of room for the 0.130-inch front blade. And I'm a big fan of fiber-optic sights in general, although in this case I do wish the Dan Wesson had a bit more of a "cage" to protect the green fiber-optic rod.
The thumb safety works with the proper amount of tension—not too tight, not loosey-goosey—and I never failed to deactivate the grip safety thanks to its memory bump.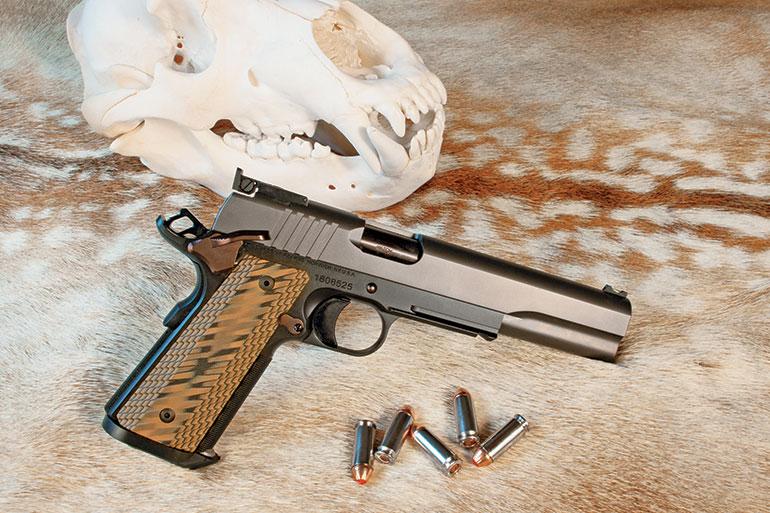 The combination of the frame and mainspring checkering plus the G10 grips keeps the gun anchored nicely. At the same time, it didn't chew up my hands.
The mag well funnel does a super job of speeding reloads. While you're not likely to be taking the Kodiak to your friendly neighborhood USPSA match, the ability to make swift and fumble-free reloads is an important basic skill. Anything that makes it easier to accomplish this is a big plus, and the Kodiak's mag well does just that. The two provided eight-round stainless steel magazines have bumpers, which are a big help for proper seating.
CZ-USA's Danae Hale told me they'd seen success with the Bruin 10mm, and now the new Kodiak aims to capture the outdoor/hunting market. Whether or not you're a handgun hunter, I think the Kodiak is an ideal companion for outdoors-folks who spend time in brown bear territory—or anyone thinking about taking the 10mm plunge who wants a gun that delivers both performance and panache.
DAN WESSON KODIAK
TYPE
: long-slide 1911
CALIBER
: 10mm Auto
CAPACITY
: 8+1
BARREL
: 6.03 in. bull, target crown
OAL/HEIGHT/WIDTH
: 9.7/5.8/1.5 in.
WEIGHT
: 47.1 oz.
CONSTRUCTION
: Duty Gray finished stainless steel slide (as tested), black forged stainless steel frame
GRIPS
: tan/black G10
SIGHTS
: fully adjustable rear, green fiber-optic front
SAFETIES
: ambidextrous thumb, grip w/memory bump
PRICE
: $2,349
MANUFACTURER
: Dan Wesson,
danwessonfirearms.com
Buy it now.
Log on to
GalleryofGuns.com
, select this firearm, pay a deposit and it will be at your local gun store in two days. When purchased from
GalleryofGuns.com
, Davidson's guarantees to repair or replace this firearm for life.
GET THE NEWSLETTER
Join the List and Never Miss a Thing.
Sign Me Up