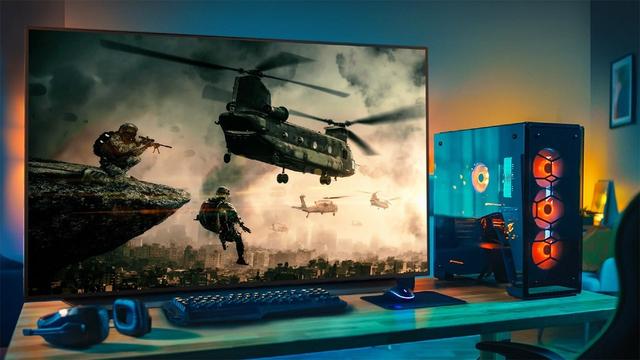 If you're looking to upgrade your gaming monitor and you're feeling generous with your budget, the two absolute best gaming monitors (in our opinion) can both be had at a discount. The LG C1 48" OLED TV is at its lowest price point ever. The Samsung Odyssey Neo G9 49" monitor isn't even out yet, but if you preorder it you can get a $300 JBL gaming headset for free. Today you can also save on the 2nd generation Apple AirPods, a LEGO Star Wars Millennium Falcon set, a powerful HP OMEN RTX 3060 Ti gaming PC, and more below.
Best 4K Gaming Monitor: 2021 LG C1 48" OLED TV
2021 LG OLED48C1PUB 48" 4K OLED Smart
TV
14% off
$1,499.99
2
$1,296.99
See
on Amazon
This is the lowest price ever for the 48" version of the LG C1 OLED TV. The 2021 LG C1 OLED improves upon last year's highly-rated CX model with upgraded A9 Gen 4 processor that delivers slightly better image quality, better 4K scaling, and improved audio handling as well as a new webOS smart TV redesign. I personally use the older LG CX OLED TV as my main gaming monitor, and after nearly a year of heavy usage, I still firmly believe that this is the best gaming monitor you can buy right now. The C1 OLED TV has HDMI 2.1 inputs, so you can output 4K at 120Hz when you pair it with an RTX 30 series video card. It also supports 4:4:4 chroma at 4K and G-SYNC technology. The OLED panel blows away any IPS, VA, or TN monitor in black levels, color rendition, sub-1ms response times, and HDR quality.
Get it on Amazon
-
$1,296.99
Get it at Best Buy
-
$1,299.99
Best Ultra-Wide Gaming Monitor: Samsung Odyssey Neo G9 49" 5120x1440 Mini LED Monitor
Free $300 Headphones
Preorder the Samsung Odyssey Neo G9 Series 49" 5120x1440 Curved 1ms 240Hz G-SYNC Mini LED Gaming
Monitor
1
$2,499.99
See
on Amazon
Preorder the Samsung Neo G9 gaming monitor (out on August 23), and get the JBL Quantum One Gaming Headset for free. That's a $300 headset. This is the first Mini LED gaming monitor we've seen and easily the best monitor in Samsung's "Odyssey" series. Mini LED technology is pretty new. You'll see them in the highest end Samsung and TCL TVs as well as the newest Apple iPad Pro 12.9" XDR display. The cost keeps 99% of us gamers at bay, but for those who can afford it, you currently won't find a better ultra-wide monitor.
Apple AirPods with Wireless Charging Case
Apple AirPods with Wireless Charging
Case
19% off
$159.99
0
$129.98
See
on Amazon
These are the 2nd generation Apple Airpods upgraded with the wireless charging case that you normally get with the higher end AirPods Pro. The wireless charging case allows you to charge the case via a wireless induction charger OR an Apple Lightning cable (the wired charging case can only be charged via cable). This version of the AirPods has rarely dropped in price this year, not even on Prime Day.
The Best PS5 SSD Upgrade: WD Black SN850 M.2 SSD with Heatsink in Stock at Western Digital Direct
WD Black SN850 500GB Gen4 x4 M.2 SSD (up to
7000Mbps)
18% off
$169.99
7
$139.99
See
on Western Digital
This is currently the most popular (and probably the best) SSD to get for your PS5 storage upgrade. The 1TB model has been out of stock everywhere since its release. It goes in and out of stock constantly at Western Digital direct as well, but it's the best place to score one right now. This is a blazing fast drive with transfer speeds rated at up to 7,000 MB/s and a PCIe Gen4 interface and it comes preinstalled with a heatsink. It's also confirmed by Western Digital themselves to be compatible with the PlayStation 5 console.
Get the 500GB model
-
$139.99
Get the 1TB model
-
$229.99
Get the 2TB model
-
$449.99
Available: Nintendo Joy-Cons Skyward Sword Edition
Nintendo Switch Joy-Cons The Legend of Zelda: Skyward Sword HD Edition
(Pair)
0
$79.99
See
on Amazon
After a long haitus, these special edition Skyward Sword themed Joy-Cons are available for order again on Amazon. They Joy-Cons are made over in a royal blue color with white accents. The right Joy-Con controller is themed after the Master Sword and the left controller features a Hylian Shield motif. Get it now before it goes out of stock again.
LEGO Star Wars Rise of Skywalker Millennium Falcon
LEGO Star Wars: The Rise of Skywalker Millennium Falcon 1,351-Piece
Set
20% off
$159.99
0
$128.00
See
on Amazon
This Millennium Falcon stands at an impressive 17" long and 12" wide. With over 1,300 bricks, at this price you're paying less than 10 cents per brick. The set also includes 7 LEGO Star Wars mini-figures: Finn, Chewbacca, Lando Calrissian, C-3PO, Boolio, D-O, and BB-8.
HP OMEN AMD Ryzen 7 RTX 3060 Ti Gaming PC
HP OMEN AMD Ryzen 7 5800X RTX 3060 Ti PC with 16GB RAM, 1TB
SSD
0
$1,699.99
See
on Best Buy
This popular gaming desktop is back in stock at Best Buy. HP OMEN desktops have good build quality, especially for the price. HP OMEN PCs are all built with consistency with the same (and often proprietary) components, unlike many other brands where each PC is piece-mealed together with off-the-shelf components that are current on hand. Don't confuse the RTX 3060 Ti with the RTX 3060... it's about 35% faster than the RTX 3060 and only about 5%-10% slower than the RTX 3070. Compared to the previous generation of graphics cards, it even beats out the RTX 2080 SUPER.
Razer Hammerhead Truly Wireless Earbuds
Razer Hammerhead True Wireless Gaming
Earbuds
56% off
$99.99
1
$43.06
See
on Amazon
The Razer Hammerhead truly wireless earbuds is over 50% off today at Amazon. These gaming-centric earbuds feature 13mm drivers with ample amounts of bass, low latency, IPX4 rating for sweat and water resistance, up to 15 hours of battery life.
Sign up for AT&T Gigabit Fiber Internet and Watch Suicide Squad 2 on HBO Max for Free
AT&T Internet
ATT Fiber Gigabit Internet for $60/mo and Get $150 Bonus Rewards
Card
25% off
$80.00
0
$60.00
See
on AT&T Internet
Sign up for the gigabit plan and you get $20 off your first year and a bonus $150 rewards card. That means you pay $60/mo instead of $80/mo. You'll get access to blazing fast gigabit speeds (both downstream and upstream) with no data cap. As a bonus, you'll also get a free 1 year subscription to HBO Max. That means you'll be able to watch recent movie releases like Space Jam: Legacy and Suicide Squad 2 movies. I personally am subscribed to AT&T Fiber and would never dream of going back to my slower and more expensive cable internet.
Preorder New Star Wars Tamagotchi on Amazon
Out November 11
Tamagotchi Star Wars: R2-D2 Classic White or Hologram
Blue
2
$19.99
See
on Amazon
Now you can take R2-D2 wherever you go as a cute little tamagotchi. Take care of your little droid by keeping him charged, cleaning him, and teaching him up to 19 different skills with a variety of mini-games. Of course there are dire consequences if you neglect your job in keeping R2-D2 happy.
The Lord of the Rings Illustrated Hardcover Edition
Out October 19
Preorder The Lord of the Rings Illustrated Hardcover
Edition
40% off
$75.00
2
$45.00
See
on Amazon
This LotR Illustrated Hardcover Edition hasn't been released it (it's out October 19), but you can already preorder it and save 20% off the retail price. This is the first discount we've seen. This massive 1,200+ page tome includes illustrations from author JRR Tolkien, for the first time in any edition of the series since 1954.
More Daily Deals for August 6
Alienware Aurora R12 Intel Core i7-11700F RTX 3080 Gaming PC with 16GB RAM, 512GB SSD, 1TB
HDD
12% off
$2,499.99
1
$2,199.99
See
on Dell Home
Seagate 5TB USB 3.0 Portable Hard
Drive
9% off
$109.99
0
$99.99
See
on Newegg
Switch
Super Smash Bros
Ultimate
23% off
$59.99
0
$45.99
See
on Amazon
PS5
Final Fantasy 7 Remake
Intergrade
28% off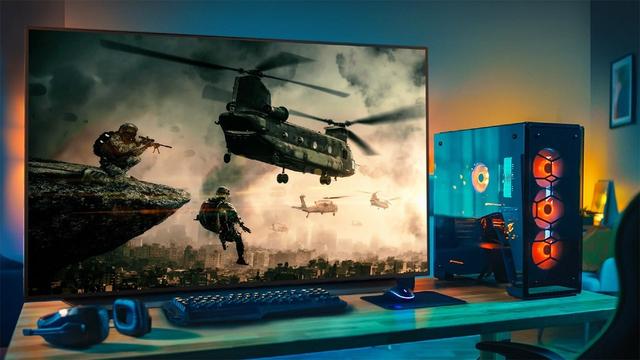 $69.99
0
$49.99
See
on Amazon
PS4
Final Fantasy 7
Remake
50% off
$59.99
0
$29.99
See
on Amazon
Sony WH1000XM4 Active Noise Cancelling Wireless
Headphones
21% off
$349.99
0
$278.00
See
on Amazon
Switch
The Legend of Zelda: Skyward
Sword
17% off
$59.99
0
$49.94
See
on Amazon
PS4, Xbox, Switch
Buy 5 Games $19.99 or Less for $50 at
Gamestop
50% off
$100.00
2
$50.00
See
on Gamestop
PS5, PS4, Xbox
Scarlet
Nexus
17% off
$59.99
1
$49.94
See
on Amazon
Logitech G502 HERO Wired Gaming
Mouse
53% off
$79.99
0
$37.99
See
on Amazon
Roborock S6 Robot Vacuum and Mop with Adaptive Routing, Multi-Floor Mapping, Extra Long Battery
Life
37% off
$599.99
0
$377.99
See
on Amazon
Super Mario Odyssey for
Switch
35% off
$59.99
1
$38.99
See
on Amazon
Mario & Luigi Editions
Mario Kart Live: Home Circuit for
Switch
25% off
$99.99
0
$74.99
See
on Amazon
85" Samsung Q80A 4K QLED Smart
TV
24% off
$3,699.99
0
$2,797.99
See
on Amazon
2021 Apple 12.9-inch iPad Pro Wi-Fi 128GB with M1
Chip
9% off
$1,099.00
1
$999.00
See
on Amazon
Pandemic Board
Game
64% off
$44.99
2
$16.00
See
on Amazon
AtGames Legends Ultimate Full-Sized Home Arcade
Cabinet
17% off
$599.99
0
$499.98
See
on Sam's Club
New Release
LEGO Marvel Infinity Gauntlet 76191 590-Piece
Kit
0
$69.95
See
on Amazon
Jamo S 803 Dolby Atmos Bookshelf Speakers
(Pair)
64% off
$299.00
1
$109.00
See
on Adorama
Bonus $10 Best Buy Gift Card
Preorder Nickelodeon All Star Brawl for PS5, PS4, Xbox,
Switch
0
$49.99
See
on Best Buy
Bonus $125 Newegg Gift Card
LG GX-Series (Gallery) 65" 4K OLED Smart TV with 3 Year
Warranty
40% off
$3,499.99
0
$2,096.99
See
on Newegg
LG UltraGear 32GN600 32" 2560x1440 1ms 165Hz VA Gaming
Monitor
28% off
$349.00
1
$249.00
See
on Walmart