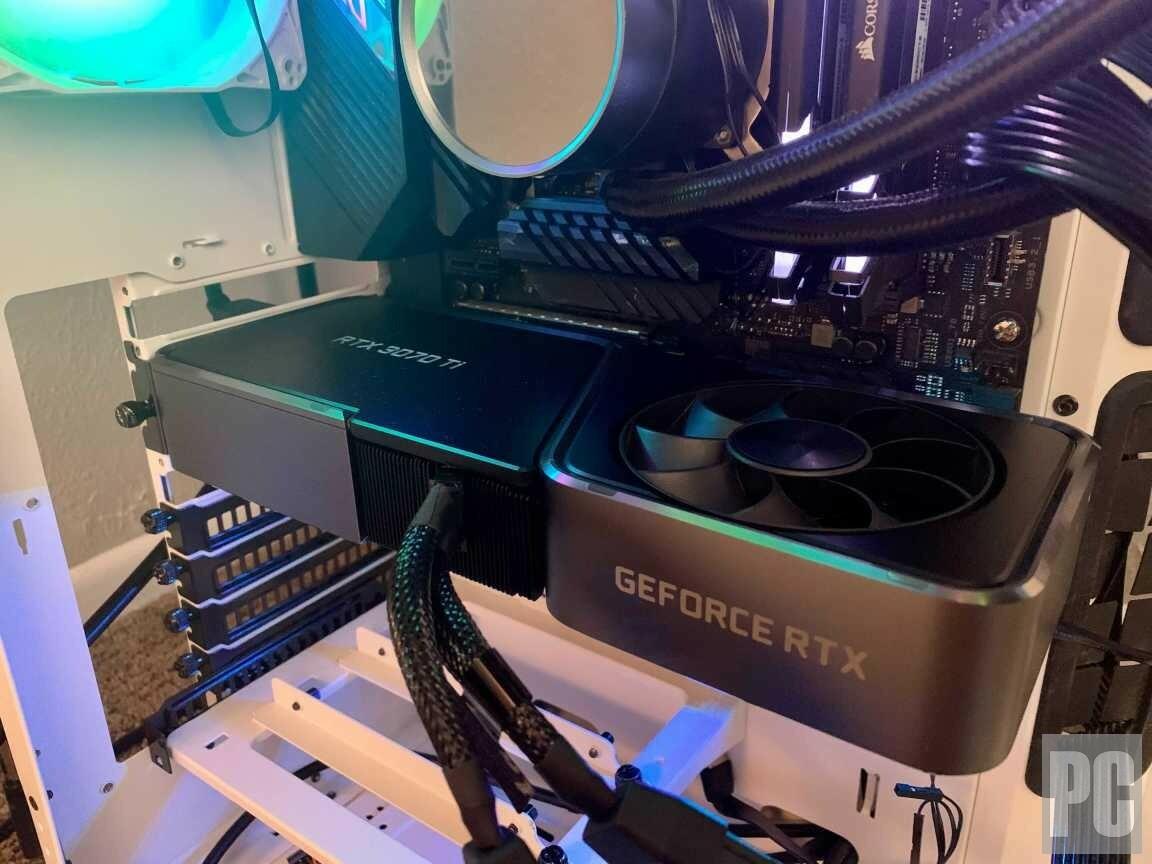 With the
RTX 3080 Ti
out the door, it's time to pull back the curtain on the smaller, more budget-friendly
RTX 3070 Ti
graphics card
. At $599, it's marketed as a direct upgrade for RTX 1070 and 2070 Super users, but at $100 more than the standard RTX 3070, is it worth paying extra for? I've spent the last week testing the card to answer exactly that question and see what kind of upgrade this card offers for last-gen users.
Nvidia GeForce RTX 3070 Ti Founders Edition
11
IMAGES
Nvidia RTX 3070 Ti Founders Edition – Design and Features
Like the rest of this generation of Founders Edition cards, the RTX 3070 Ti is all about one-upmanship of the RTX 20-series. If you haven't experienced a Founders Edition card from this generation, you'll be in for a treat. Like the original 3070 (
reviewed here
), the 3070 Ti features Nvidia's dual-axial cooler. Despite its compact size, the actual PCB is even smaller, which allows the heatsink to overhang, directly below the fan. Paired with a sizable vent along the back, air is whisked out the back of the card, allowing it to stay at safe temperatures and high clock speeds. This generation of Founders Edition cards represents Nvidia's best work when it comes to its in-house coolers, and though this does run warmer than the version found on the RTX 3080, it's a big improvement from the 20-series cards.
Under the simple yet eye-catching exterior of the card, the RTX 3070 Ti packs some impressive specs. It features 6144 CUDA cores and 8GB of upgraded GDDR6X memory. Both the RTX 2070 Super and RTX 3070 featured standard GDDR6. The bump to GDDR6X increases the total memory bandwidth from 448 GB/s to 608 GB/s. This boost allows assets to load and display faster; however, with GDDR6 already being quite fast, you might need a keen eye to spot the improvement in normal gameplay. The bigger concern is that 8GB just doesn't feel like enough for a card of this caliber. AMD's best competitors, the RX 6800 and RX 6700 XT, ship with 16GB and 12GB, and considering that there are already games that push the 3070 Ti to its limit at 4K with ray tracing enabled, they feel significantly more forward thinking in this department.
The rated Boost Clock also received a jolt and is now guaranteed for 1.77 GHz. The original RTX 3070 was just slightly less at 1.73 GHz. It's on par with the 2070 Super's clock speed – but since so much has changed this generation, that means less than it might seem. Regardless, thanks to Nvidia's GPU Boost technology, you'll likely blow right past these rated speeds anyway. When gaming, the Ti ramped up to 1920 MHz and would occasionally tip over to 1950 MHz. Under load, the card never actually dropped to the rated speeds.
The card tends to run hot, however. Compared to the RTX 3070, the 3070 Ti uses more electricity (290 watts versus the former's 220 watts), which in turn means more heat. My office was rather warm at 26C and the card peaked at 82C in an open case. The fans had to work harder to keep up, which generated more noise than the original RTX 3070. It still wasn't enough to be distracting while gaming but it would have been nice to see it run a bit cooler, even if it meant a slightly larger card overall.
Like the rest of the RTX 30-series, the RTX 3070 Ti is built on Nvidia's Ampere architecture. It offers big performance gains over Team Green's last-generation GPUs while still following the same three-tiered approach to the core architecture. In short, RTX GPUs are composed of three parts: the programmable shader (rasterization), the RT core (ray tracing), and the tensor core (AI). Each of these carries a portion of the rendering weight and is measured in TFLOPS. Here's how the RTX 3070 Ti breaks down in comparison to the RTX 2070 Super and RTX 3070:
22 Shader-TFLOPS (+144% FROM RTX 2070 Super, +8.4% from RTX 3070, -26.7% from RTX 3080)
42 RT-TFLOPS (+75% from RTX 2070 Super, +5.8% from RTX 3070, -27.6% from RTX 3080)
174 Tensor-TFLOPS (+142% from RTX 2070 Super, +7%, -26.9% from RTX 3080)
The gains from the RTX 2070 Super are large, so the generational leap is absolutely noteworthy. If you're coming from ever farther back, like the GTX 1070 Ti, Nvidia says its new card offers "2x the performance." Compared against the RTX 3070, the gains are marginal, however, which plays out in actual benchmark testing.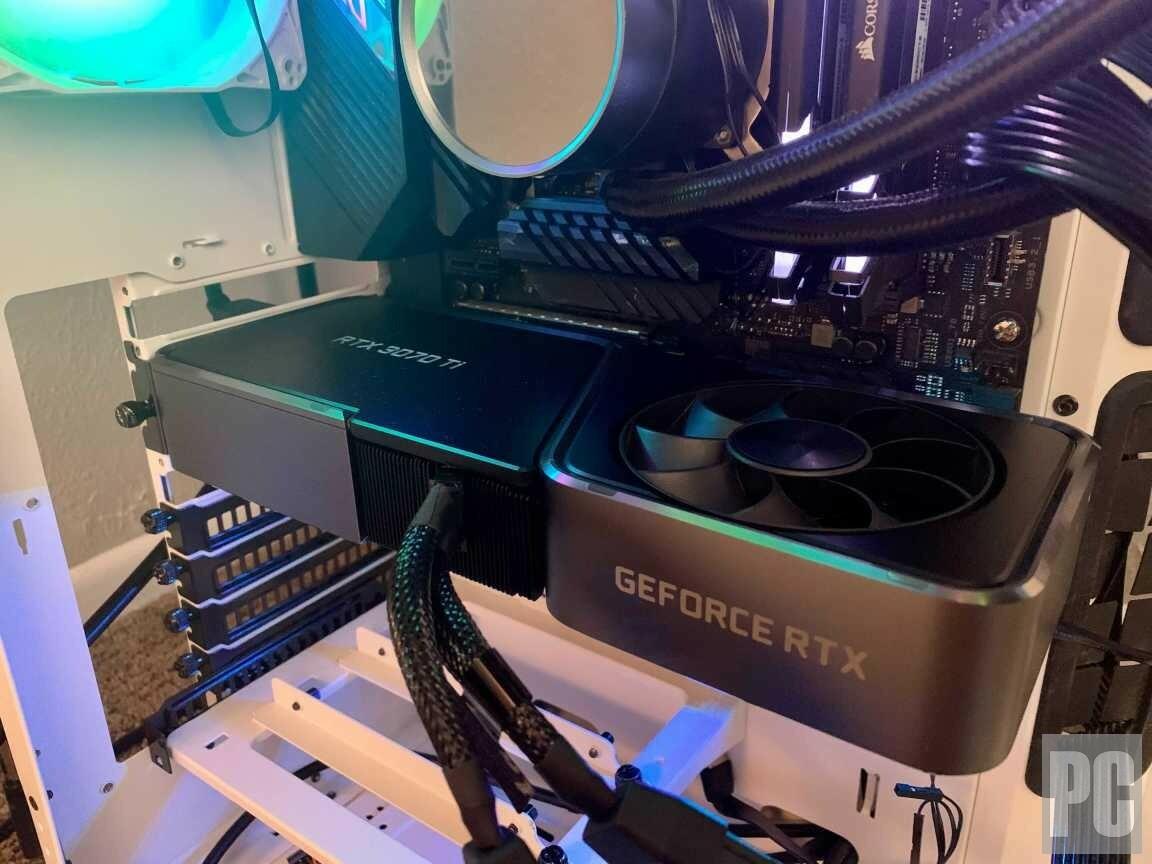 I won't spend too long going over the "extras" that come with an RTX GPU, but they're worth mentioning briefly as a reminder. The hallmark feature is, of course, DLSS. Nvidia's intelligent upscaling technology has a significant lead on AMD's upcoming FidelityFX Super Resolution and looks to remain an impactful feature for the foreseeable future, especially for users running 4K monitors. Streamers will enjoy Nvidia Broadcast, a suite of AI-enhanced tools that use RTX to effectively remove background noise or virtual greenscreen background removal. For esports, Nvidia Reflex is an excellent feature to reduce input lag and increase responsiveness with only a minor impact on overall performance.
If you're a cryptocurrency miner, it's also important to note that this card follows the RTX 3080 Ti and limits the hash rate when mining Ethereum. This is part of Nvidia's effort to make the card less appealing to cryptocurrency miners. As the price of GPUs soars ever higher with the current worldwide shortage, this also means you'll be less able to recoup the cost of your investment if you had been planning on dabbling in mining yourself. It's a difficult and complex situation, and there are open questions about whether this is an effective way to dissuade crypto miners, but is definitely something to be aware of had you been planning on doing so yourself.
Finally, when it comes to outputs, the RTX 3070 Ti offers one HDMI 2.1 output for the latest and highest performance gaming monitors out there, and three DisplayPort 1.4 outputs for a total resolution of 7680x4320 (8K) split across all outputs. For video streaming, the card supports AV1 decoding. For creating your own content, it is compatible with Nvidia's proprietary encoder for streaming and video work.
Nvidia RTX 3070 Ti Founders Edition – Performance
Test system: Z390 Asus ROG Maximus XI Extreme Motherboard, Intel Core i9-9900K CPU (stock), Corsair H115i PRO RGB 280mm AIO CPU Cooler, 32GB Corsair Vengeance RGB Pro DDR4-3200, 1TB Samsung EVO Plus NVMe SSD, Corsair HX1200 1200-watt power supply.
Our video cards are benchmarked using a series of synthetic tests and real world gaming benchmarks. Unless otherwise noted, all games are set to Ultra settings with ray tracing and DLSS on (set to Ultra) wherever possible. We strive to use Founders Edition or reference cards wherever possible but with older generation GPUs, this wasn't always possible, so be aware that factory overclocks can account for minor performance increases on those cards.
Let's begin with synthetics.
The first two synthetic tests I ran the card through were 3DMark Fire Strike Ultra and Unigine Heaven. In Fire Strike Ultra, the card offered a boost over both the standard RTX 3070 and the RTX 2070 Super of 6% and 41% respectively. I also included the RTX 2080 Ti results since the original RTX 3070 was compared directly to it, as well as the RX 6800 XT which has an MSRP of only $50 more. While the 3070 Ti beats the 2080 Ti handily, it doesn't come close to the RX 6800 XT. Likewise, the RTX 3080 maintains a 15% advantage.
In Heaven, the results are much closer between the 3070 Ti, 3070, and 2080 Ti. Again, however, the RX 6800 XT dominates the charts.
Moving onto ray tracing specific benchmarks, the RTX 3070 Ti performs well but couldn't top the RTX 2080 Ti in 3DMark Port Royal. It did top the RTX 3070 by 7% and the RTX 2070 Super by 41%, however. In the FPS-based tests, the RTX 3070 Ti bests the 3070 by 16% in Boundary and 3% in 3DMark's ray tracing test. Against the RTX 2070 Super it leads by 52% and 77%. Stepping up to the RTX 3080 nets a 28% and 40% performance boost in these two tests.
Enough with synthetics, let's see how it performed in games.
Nvidia GeForce RTX 3070 Ti Gaming Benchmarks
5
IMAGES
Beginning with our standard stable of benchmark titles, the differences between the different cards in real-world gameplay begin to become apparent. Compared to the RTX 2070 Super, the RTX 3070 Ti represents a solid upgrade by offering an average of 42% more FPS at 4K, 38% at 1440p, and 29% at 1080p. Against the standard RTX 3070, the results are much more narrow, averaging on 4% faster at 4K, 3% faster at 1440p, and 2% faster at 1080p. It's also worth noting that the differences ranged from less than 1% to 9% in favor of the RTX 3070 Ti, so performance is close.
But what about if you wanted to step up? In that case, the RTX 3080 offers substantial improvements for the added $100 on MSRP. At 4K the 3070 Ti ran 80% slower on average, 18% slower at 1440p, and 15% slower at 1080p. Against the RX 6800 XT (with Metro Exodus removed due to the DLSS advantage), the 3070 Ti averaged 16% slower at 4K, 19% slower at 1440p, and 17% slower at 4K.
Of course, the performance of the card will depend on the games you're playing, and this is a limited sampling, so I conducted some expanded tests at 4K. Here's how it averaged there.
In this expanding testing, the RTX 3070 Ti averaged 43% faster than the RTX 2070 Super and 13% faster than the RTX 3070. Against the RTX 3080, it was 21% slower. When pitted against the RX 6800 XT and can benefit from DLSS in ray traced titles, the 3070 Ti averages 11% faster but with those titles removed comes in 15% slower.
As these results demonstrate, the RTX 3070 Ti is a good card on its own merits but offers only marginal improvements from the original RTX 3070. So who is this card for? If you're coming from the GTX 1070 or RTX 2070 Super, there are major gains to be had, but that same thing holds true with the standard RTX 3070, and remember, that card was compared against the RTX 2080 Ti. The 3070 Ti edges it out in performance but it's not huge. Instead, this card seems intended to compete with the RX 6800 XT, filling in a gap in Nvidia's catalog for this price point, but it just doesn't seem worth it when the RTX 3070 exists for less. Then there's the matter of the card only featuring 8GB of VRAM, which could lead to an earlier upgrade and more money spent than if you just bought an RTX 3080 in the first place. As it stands, this card really only seems to fit for gamers who want to do a straight "gen-to-gen" jump or those who have a hard budget and want the fastest card under a certain price.
Nvidia RTX 3070 Ti Founders Edition – Purchasing Guide
The RTX 3070 Ti Founders Edition will be available from retailers worldwide on June 10th for $599. Aftermarket variants will follow with independent pricing.