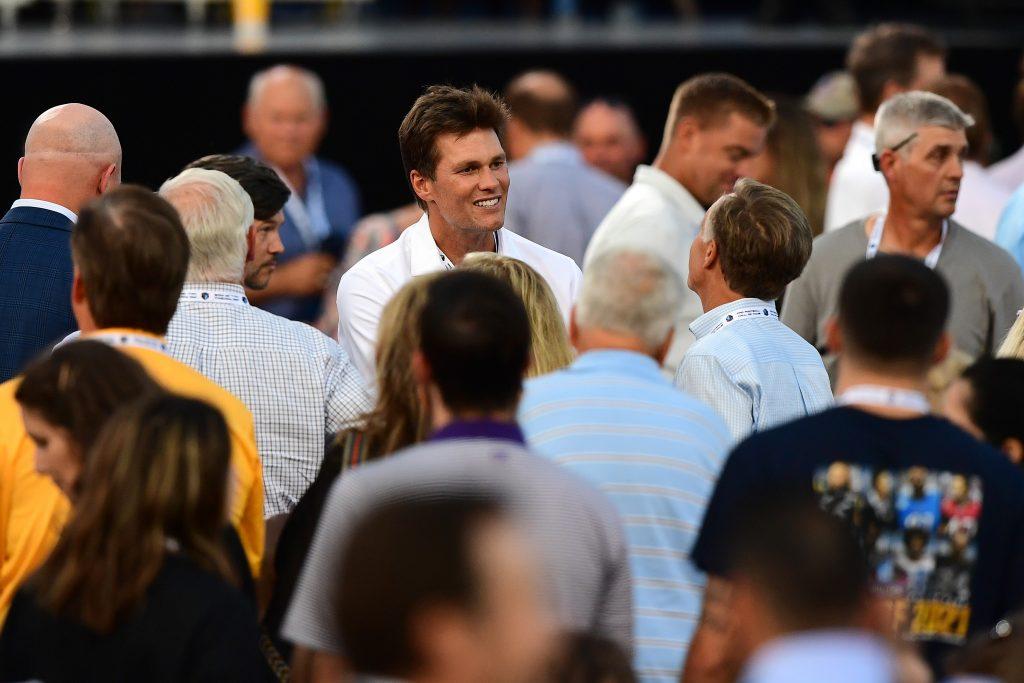 Tom Brady
has some sort of connection with many of the players inducted into the Pro Football Hall of Fame this past weekend. However,
Calvin Johnson
's induction might be the most telling testament to Brady's longevity.
Johnson officially received his gold jacket this past weekend as part of the Class of 2021. Brady, fresh off his seventh Super Bowl title, was on hand to witness the inductees make their remarks. Although Brady had more of a relationship with fellow inductees
Peyton Manning
and Charles Woodson, it's the overlapping timeline with Johnson that amplifies just how remarkable his NFL tenure is.
Tom Brady won his third Super Bowl when Calvin Johnson was a freshman at Georgia Tech
Let's flashback to 2004. Calvin Johnson is preparing for his freshman season at Georgia Tech, where he will eventually become one of the most exciting wide receivers in college football. Brady, meanwhile, is hoping to cement the New England Patriots dynasty.
The former sixth-round pick guided the Patriots to a Super Bowl after taking over for an injured Drew Bledsoe during the 2001 season. New England won its second title in three years in 2003 and was bidding for back-to-back titles in 2004. Brady helped the Pats accomplish that feat, as New England defeated the Philadelphia Eagles in Super Bowl 39.
That third Super Bowl made the early 2000s Patriots teams one of the greatest dynasties in NFL history. Brady had already accomplished quite a bit in his young career, though he had more rings to win.
As for Johnson, he was about to take the NFL by storm as one of the greatest receivers the league has ever seen. His career also reached a shocking conclusion.
TB12 won NFL MVP the year Johnson was drafted and Super Bowl MVP the year Megatron entered the Hall of Fame
Brady might have won Super Bowls early in his career, but it took some time before he could really lay claim to the title of "best quarterback in the NFL." That changed in 2007 which, coincidentally, is the same year Johnson was drafted.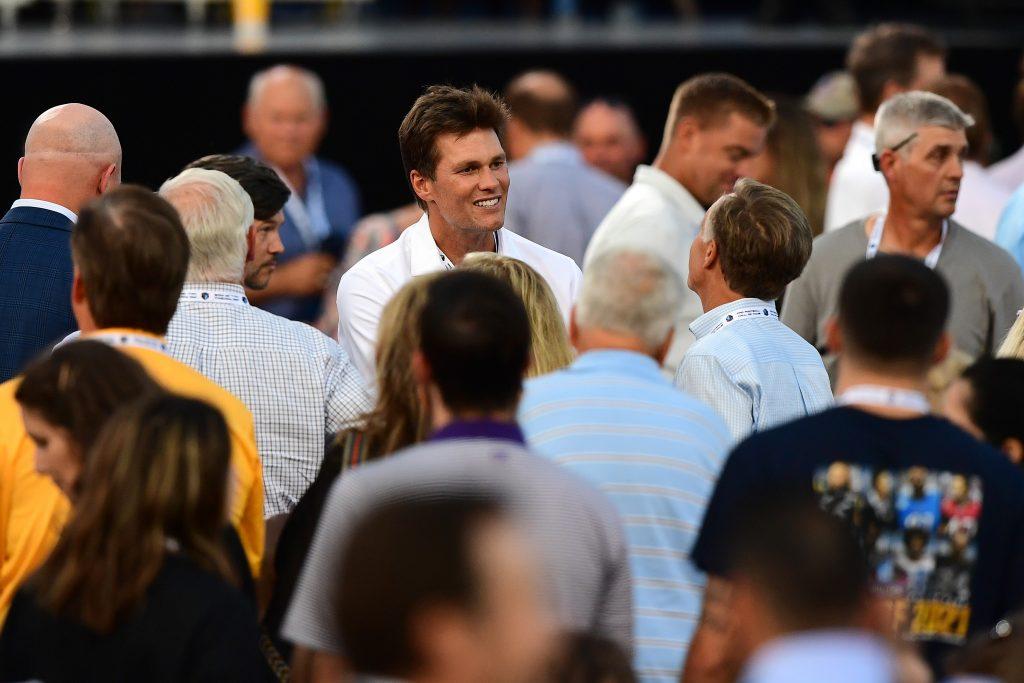 The former Patriots signal-caller put together one of the greatest seasons in league history, throwing for 4,806 yards and a then-record 50 touchdown passes. He earned MVP honors and led New England to a perfect 16-0 in the regular season, though the Patriots missed out on a perfect season after being shocked by the New York Giants in the Super Bowl.
Just one year later, Johnson made his case as the best receiver in the NFL after leading the league with 12 touchdown receptions in addition to 1,331 receiving yards. It was a sign of things to come.
Megatron embarked on a historic run at the start of the 2010s. He made six consecutive Pro Bowls between 2010 and 2015, including a three-year stretch of All-Pro selections between 2011 and 2013. His 1,964 receiving yards in 2012 is still a record for most in a single season.
Johnson was still at the top of his game after the 2015 season, but he stunningly announced his retirement from the NFL shortly after turning 30 years old. He played just nine seasons yet was a surefire Hall of Famer destined to see his day in Canton.
That day arrived on Sunday, with Brady on hand to watch the proceedings. The legendary quarterback had been NFL MVP the year Johnson was drafted. All these years later, Brady is the reigning Super Bowl MVP in the same calendar year as Johnson's induction to the Pro Football Hall of Fame.
How much longer will Brady keep playing?
Tom Brady will eventually have his own bust in Canton, though he doesn't seem close to retiring | by Emilee Chinn/Getty Images
Tom Brady has outlasted numerous peers over the course of his playing career. How much longer can he play football?
The 44-year-old has hardly shown any signs of slowing down. In fact, Brady recently signed an extension with the Tampa Bay Buccaneers to give the Bucs added cap flexibility to re-sign key players for a run at a second straight Super Bowl title.
Brady's accomplishments on the gridiron are quite lengthy. However, as Johnson's induction might have reminded fans, his durability has been every bit as extraordinary.
Stats courtesy of
Pro Football Reference
.
RELATED:
Tom Brady Criticizes Fellow NFL Players as Franchise Value Rises Around the League: "NFL Players Are Ignorant"