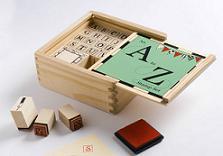 Pick a letter, any letter and we'll be able to recommend a couple of gift ideas beginning with said letter, to assist you with your present decision making, in case you're running low on ideas. It'll be spread throughout the course of the week, so you'll have to wait till the end of the week if you're desperately looking for a present beginning with X, Y or Z. There'll be five a day and six on Friday, seeing as the alphabet doesn't fit into the multiple of five (ruining my plan to bring you five a day).
Enjoy and make sure you have a gadgety Geekmas.
Z:
Zac Efron iPod Nano case:
Just what you always wanted for Christmas – Zac Efron. Well not quite (we know what YOU want), but seeing as what you want is, quite frankly never going to happen, you may as well go for this iPod cover. It's the closest you're probably ever going to get to him. £9.99 here.
Zune 120:
The Zune isn't available over here but that's the great thing about International shipping. The Zune 120 is my favourite of the lot (there are cheaper models available), and Microsoft's just added red and blue to the pallet. So don't miss out here for
$224 USD here
.
Y:
Yamaha Electronic Trumpet:
You may laugh, but this might make a great Xmas pressie for someone who's into their music or inspired by that advert with the jelly bear shouting "bring on the trumpets". It comes with volume controls so won't make any unintentional listeners want to rip their hair out. There's also 22 different sounds on offer and can be hooked up to your PC or keyboard for MIDI-enabled choons.
$325USD here.
Yamaha Digital Sound Projectors:
Enhance your movie watching experience with the YSP, which produces 5.1 channel sound to take you as close to the cinematic experience as the real thing. Just plug it into your TV and you're good to go. £499 here.
X:
Xiao Digital Camera:
This nifty little device is a printer/camera hybrid, giving you the added convenience of taking pictures with a five megapixel camera and then print it out using a piece of photographic paper no bigger than a credit card. If you happen to be in Japan you can pick one up for 34,000 Yen, otherwise you could get someone a late or early Christmas present next year spring.
Xperia X1:
The Sony Ericsson Xperia is a rather nice handset. It might seem a tad convoluted at first, but it's a wonderful handset. If you don't like the idea of being embroiled in a contract, the next best option is pay as you go. It was never going to be cheap. £518.99 here.
W:
WiFi Detecting t-shirt:
This is great if you need to know at all times whether you're in a WiFi hotspot. A simple press of the WiFi button lets you know how strong the signal is in your area in the form of glowing bars. And when you're not enquiring about wireless internet, you could get away with saying it's some kind of retro rave t-shirt.
£19.95 here
.
Wii:
If you haven't got one already it's about time you got on board and join the community of players of one of the best consoles out there. Prices start from £199 here
v:
Vuzix iWear VR920:
Enter the virtual world of the Vuzix gaming glasses – a motion sensing, virtual reality headset for gaming. As they're built for your gaming pleasure, don't expect to have a happy browsing experience with them. £229 here
Vodafone Dell Inspiron Mini 9:
Vodafone and Dell teamed up earlier this year to bring us a tantrum free netbook with built-in mobile broadband. So that essentially means that means instant internet action wherever. Specs include 1GB RAM, up to 16GB SSD and a 1.3 megapixel camera. Prices start from
£299 here
. Some one will need to foot the monthly fee if you opt for the model with built-in internet.
U:
U-GlowLites jewellery:
This range of jewellery gives the phrase bling bling a whole new meaning. Everything in the range consists of some kind of flashing light action whether it's a ring, a choker or a name badge. Prices range from as little as $1.49 USD and if you want to buy in bulk, they've got you covered. Visit the site here.
Twighlight Umbrella:
Tis the season for rain and gloomy weather so why not shield yourself from precipitation in style. It changes colour and everything. It's a one of those big 'I own the road' umbrellas, so if you're not a fan of those, perhaps a smaller one would do.
£19.99 here
.
T:
Trebuchet for your desktop:
Set this bad boy up on your desk and unleash the fury on unsuspecting victims in your office. Forget all the modern takes on desktop projectile weapons, with this miniature piece of medieval weaponry you'll have the best of the lot.
£14.95 here
.
T303 handset:
If you're going to do a budget handset, you may one with a bit of style. And the
T303 from Sony Ericsson
is designed for the style conscious. It's features aren't very impressive, but there are enough standard features to keep you satisfied if you're all about the no frills. Get the cute compact SIM free, here for £85.
S:
Sony Walkman A820 Series:
I have one of these and it's the best music player I've ever had. No really. Not only is it Bluetooth, it has intuitive music software and is really easy to use. 8GB model here for £169.
Sony Ericsson MVW Bluetooth watches:
If someone were to buy one of these for me, it would be one of the greatest Christmas presents EVER. I love these things (you can see how much here). A Bluetooth watch isn't the kind of thing you need, but if you had it you'd use it a hell of a lot. It's a great way to see who's ringing you without actually handling your phone. £269 here.
R:
Rampant Rabbit Platinum:
This is like the supreme vibrator. I'd like to think Sex and the City made the Rabbit what it is today – if it wasn't for Miranda's obsession with staying at home with her Rabbit, there is no way the Rabbit would be one of the most popular vibrators in the world of vibrators. Know someone badly in need of one of these?
£44 here
.
Roomba Roboot Vacuum:
This nifty little robot will take great pleasure in cleaning your house without any remote control action going on. It might have a little trouble navigating around your living room, especially if there's more than afew obstacles, but generally it'll clean your house hassle free. £157 here.
Q:
QWERTY T-shirt:
I knew if I googled QWERTY t-shirt I'd find what I was looking for. Express your love of the QWERTY keyboard in this geeky tee from Zazzle. $15.95 USD here.
Quick Pod:
It's so simple, but it's one of those things you'll make more use of than you think. The expandable hand held tripod attaches to any camera or camcorder with a standard tripod socket. $24.95 here.
P:
Philips Intimate Massagers:
They're called massagers, but we really know what they are – sex toys (hehe). There are two non-penetrative 'massagers' to choose from – the Warm Massager (£67.99) and the Dual Intimate Massagers for him and her (£76.99). Or get the Warm Massager with LED candles for £76.49. Get it all here.
Polaroid Pogo:
I absolutely love this thing and recommend it for any photograph enthusiast. All you need to do is end your pics via Bluetooth, or mini USB, and out pos a picture in the space of around two minutes. Unfortunately though, the pictures come out dry due to an inkless printing process, so there'll be no shaking it like a Polaroid picture. £79 here.
O:
Ollie & Nic laptop bag:
If you're going to sport a laptop bag, you may as well do it with style right? This Tosca Work bag will definitely do the trick. It's colourful, spacious and reasonably priced. £25 here.
Optoma Pico Projector:
This is the
UK's smallest projector
capable of throwing up a 60-inch image (diagonal) for your viewing pleasure. It's a nice little device that's nice and light for portability and easy manoeuvring . It produces a resolution of 320 x 240 and packs a 2 hour battery life. It doesn't have a great speaker in place, so you may have to rely on the other device for sound but at £249 it wouldn't make a bad present.
N:
Nokia 5310 XpressMusic handset:
A great handset and a great music bundle to boot, makes the Nokia 5800 a great low-end handset. This isn't any music bundle either, this comes packed with unlimited Comes With Music service, with a years subscription.
£129.95 here
.
Nabaztag:
This clever little multimedia rabbit is a handy little computer companion to have around. Not only does it stream your music, have voice activation, wireless technology and smell technology (senses other wireless devices), it incorporates the use of RFID tags. You'll need to buy NabaZtamps which have built-in RFID tags and attach to surfaces. $190 USD here
M:
MyVue Crystal 701 Glasses:
These wacky looking glasses have been designed to be clipped into your iPod, media player, or PMP and the like, for your very own personal media viewer. You might not look like an idiot (a futuristic idiot) but you'll have your very own personal cinema system which means only you can watch all the action (whatever action that may be). Get a pair here for £210.
Macbook:
Make someone's Christmas and become their number one fan by buying them a Macbook Pro. The Macbook range was treated to an upgrade earlier this year with two new models – the 13-inch Macbook and the 15-inch Macbook Pro. They're made from one piece of aluminium, giving it the name unibody and now have 30 percent less power consumption, making it a bit more eco friendlier than before. Get the Macbook
here
– prices start at £675. Get the Macbook Pro
here for £1,345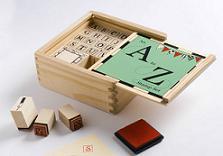 .
L:
Lumie Elite Bodyclock:
Seasonal Affective Disorder really takes its toll on some people and the winter sadly turns them into some kind of social recluse. Put an end to their hypochondriac state with this Lumie lamp – designed to mimic the rising sun and exposing the SAD victim to an extra dosage of light. £139 here
Lumix DMC G1:
If you know someone a photographing enthusiast who really wants a DSLR camera but doesn't want the bulk associated with it, you may want to buy them, or point them in the direction of the G1 – a reasonably palm sized DSLR with fantastic specs. Its interchangeable lenses, a Full Time Live View finder, a moveable 3-inch LCD display and use of the Micro Four Thirds System makes its price tag justifiable. £599.99 including the zoom lens – £329.99 with the telephoto lens.
K:
KC55O phone
: The KC500, or the LG Cookie, is an entry level touchscreen with 3-inches of touchscreen magic. And at £98 on Pay As You Go it means everyone can have a piece of the touchscreen pie. Don't expect HSDPA or GPS, but expect a great and affordable handset with a lovely user interface. Pick one up here.
Klipsch X10 headphones:
Do you know anyone who would relish in owning a pair of the world's smallest headphones? They are pretty small, but whether they're the worlds smallest, as Klipsch claims is a mystery. Something tells me there's an even smaller headset on the shelves of a shop in Japan somewhere. As well as noise isolation technology and an anatomic design, the headphones will set you back £170 here.
J:
JBL Spyro Speakers:
If you're into great sound and bass-heavy speakers in a not too shabby outer shell to house all that audio, this JBL speaker system is a great choice. And the floral shaped speakers are the icing on the cake, giving the speakers a one-of-a-kind design. £70.99 here.
Jawbone Bluetooth headset:
Bluetooth headsets don't make the most exciting Christmas gifts, but if you want your friend to stop talking on her phone while driving, and essentially stop breaking the law, the Rambling Rose Jawbone headset from Aliph would make a lovely prezzie. It also packs 'NoiseAssassin' technology, which is a reason in itself to buy it, don't you think?. £79.99 here.
I:
Inspector Gadget 'Go-go Gadget' t-shirt:
Everyone remembers Inspector Gadget. You may not love it, but it's definitely one to remember. Wearing this t-shit won't trigger any gadgets on the signature "go-go gadget" adage, but it might make you feel cool. £14.75 here.
iRiver SPINN PMP:
If you're after a nifty and reasonably priced little PMP, the iRiver is a fab choice. According to Dan, it's got "damn excellent" sound quality and having Bluetooth capabilities definitely helps. £160 here.
H:
High School Musical 3 Got The Moves Dance Mat:
This wouldn't be 'H' without a High School Musical offering. So do you know any HSM obsessives that would love you forever for buying them some movie memorabilia? They'll love you even more when they realise they can emulate the dance moves on their very own HSM dance mat. £22.50 here
Hannah Montana Guitar: If you want the best of both worlds and secretly dream of actually being Miley Cyrus/Hannah Montana, this guitar, built by Washburn will bring you one step closer to the dream. The bright purple guitar could be your gateway to stardom. You'll never know unless you make the purchase –
£117 here
.
G:
Gerbil:
One of the most popular pets worldwide might be a great gift idea for your kid. You can find it in any pet shop and if you are looking for a cage as well,
here is a list
with top options you should consider.
Griffin Powerdock:
Got an iPod obssed pal, or perhaps you live in a house full of iPod owners? Either way the Griffin Powerdock makes for a nifty charging dock… or iPod art (when they're not in use). It also helps that it's compatible with all iPods. The price helps too. $49.99 for 2 dock and $69.99 USD for 4 here.
Guitar Hero controller from Logitech:
If you're serious about Guitar Hero, this
wireless wooden guitar
will surely separate you from the amateur gamers. It features a rosewood fretboard, metal frets and a wireless range of up to ten metres, giving you plenty of space to rock out and show off those strumming skills. It just screams rawk!
£150 here
.
F:
Fuji Instant Mini:
Reaffirm someone's love for instant photos with these quirky and completely unique cameras (or anti cameras as Susi puts it). Snap a shot and wait a few seconds for a pic roughly the same size as a credit card – it's as simple as that. Features and prices vary depending on what you're after. There's a bog standard version for £63 raging to a better specced version with a self-timer and intelligent flash for £119. Click here to get one.
Fatman Red-i Speakers:
This'll make a great gift for someone who's really into their audio. You could get them a bog standard cubed speaker, but that's boring. Show them you've put some effort into their gift by getting them more than just an iPod dock, with these gorgeous valve speakers from Fatman. £390 here.
E:
E-matic EM324CAMP MP3 player:
It's not all about what Apple has to give when it comes to MP3 players.
E-matic's MP3 player
has the iPod-esque colours down, but it goes further than Apple by packing a 2 megapixel camera with video capabilities and a MicroSD card slot. $60 USD here.
EQ7 MOTOROKR Speaker:
It's always good to have a portable speaker close to hand, whether you're indoors or want to take your audio to the streets (or the park). And a Bluetooth speaker is great piece of equipment to own as it means the EQ7 doubles up as both a portable speaker and a speakerphone with a built-in mic for your mobile. £117 here.
D:
Double Sided Hestia Massager:
I love the way sex toy retailers call sex toys 'massagers' instead of what they should really be referred to. If you're going to give this to a friend as some kind of novelty gift, might I suggest you don't tell them to put it under the tree, so as to avoid embarrassment when she's opening her presents surrounded by family saying "what did you get?" – unless that's your intention of course (mwooohahaha). £12.99 here.
DS Lite:
You may want to hold out for the Nintendo DS that'll be gracing the shelves of gadgety retailers some time next year, but if your gift recipient is a tad on the impatient side, get them a DS here for £100.
C:
Cake Royal USB collection:
Got a greedy mate who can't stop eating all the
pies
cakes and is also bit of a geek at heart? What better way to showcase this love than with this delectable USB drive shaped like the tastiest of tastiest deserts. They even come in their very own little cake box. £17 here
Canon IXUX 980 IS:
Canon is a brilliant camera brand and this 14.7 megapixel offering with 3x optical zoom would be greatly appreciated by those who value taking quality pictures. And with manual mode, face detection technology and a range of other useful features to boot, this really is a great compact camera. £349 here
B:
Bike Speakers
: These iPod speakers from iHome would make a great accompanying gadget for any cyclist enthusiast who gets highly frustrated each time their earphones fall of their ear every they make any sudden movements. $69.99 USD here.
Bose SoundDock:
Bose is a fantastic audio brand and is well known for producing a range of high quality audio sound systems/speaker docks. The SoundDock Portable digital music system is an impressive piece of audio equipment and would make any audiophile proud. £292 here.
A:
Apple products:
I bet you knew this was coming (obviously). I haven't named a specific Apple product because quite frankly anything from the Apple tree would make great prezzies (computers, laptops, iPhone, MP3 players etc). If the funds are low and the words credit and crunch are spoiling your present giving, the Nano sells at a reasonable enough price to save you from sobbing into your pillow at night – 3rd generation 8GB £77 here: 4th generation Nano 8GB £109. Or if you're feeling a little more affluent than your money saving pals, why not give someone an iPod Touch this Xmas and sit back and wait for the pretension to kick in. 8GB £155
here
.
Archos 5:
Zara is a keen lover of all things Archos (or what she calls "the king of the PMP"), but it's the
Archos 5
that's caught her eye in particular. This lovely media tablet with integrated WiFi, will keep you entertained on the move, in the gym and pretty much wherever you darn well please. 60GB – 349 Euros: 120GB – 399 Euros: 250GB – 499 Euros
here
.
Dec 12, 2008
Lucy Hedges
Share this:
Facebook
Twitter
Pocket
Pinterest
Tumblr
Print
Email
Reddit
Like this:
Like
Loading...
Related